Battles and wars are fought on many fronts.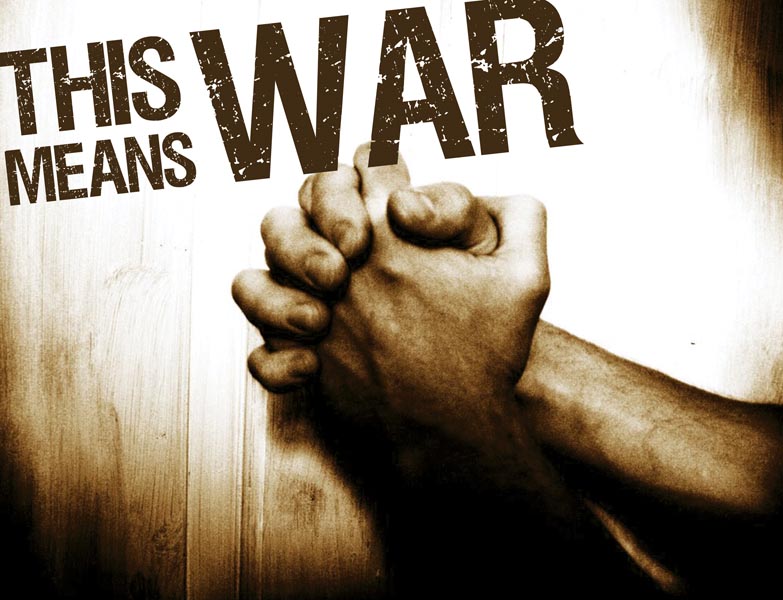 On one level there are the strategic campaigns of big battles, fought over large areas, with army pitted against army, man against man.

Then, there are the tactical (day to day) matters: small pieces of the jigsaw that go on to make up the big picture of any military campaign. In any battle, though, not everything that contributes to victory or defeat is immediately visible: some things are certainly not as they first appear.
We'll be looking at two bible passages in this study. The first (Ephesians 6) places prayer firmly in the context of a battleground where the struggle is both within ourselves and between the often competing claims of Christ and culture. Our second passage (John 17) is an example of a very specific kind of prayer: it is Jesus' prayer for disciples like us who are sent into the world to bring Grace and love, confronting power with truth.
In peace there's nothing so becomes a man as modest stillness and humility; but when the blast of war blows in our ears, then imitate the action of the tiger; stiffen the sinews, summon up the blood, disguise fair nature with hard-favor'd rage (William Shakespeare, Henry V)

Men may spurn our appeals, reject our message, oppose our arguments, despise our persons, but they are helpless against our prayers (J Sidlow Baxter)
To think about
What is the biggest (greatest) spiritual battle you face?
How might we avoid fighting these necessary battles from our own resources?
As Paul brings the letter to a close, he has one final point to make. As we seek to live out God's will for our lives in a worthy way (4:1), then we must expect our lives to be a battleground. We have a real and powerful adversary but our God is far more powerful still and gives us the things we need not just to fight, but to stand through and gain victory in this spiritual battle.
Please read Ephesians 6: 10 – 24
Prayer in the Spirit
What common opinions/beliefs do people hold about evil, its source and presence in the world?
In verses 11 – 14, there are 4 occasions where Paul urges his readers to stand firm. How might we be taken in by matters that stop us from growing closer to God?
How helpful is the picture of the armour of a Roman soldier to you? (Note: Being under house arrest, Paul may well have been chained to one!)
Why is prayer a vital part of the armoury of any Christian soldier?
What helps us to pray effectively? How might this effectiveness be compromised?
Two phrases in the Lord's Prayer fit together: "Lead us not into temptation, but deliver us from the evil one" (Matthew 6:13). The word temptation can mean to entice to do wrong, but it can also mean to put to the test. The same experience can be both a temptation to do wrong and a test of our commitment to do right. Satan, the evil one, wants us to fail the test and sin; God gives us everything we need to pass the test and, as a result, strengthen our walk of obedience.
Please read John 17 verses 6 to 19
Prayer for the church
James writes: "When tempted, no one should say, 'God is tempting me.' For God cannot be tempted by evil, nor does he tempt anyone" (James 1:13). Why pray that God would not lead us into temptation when he doesn't tempt us to sin anyway?
Jesus makes it clear that we need God's power to face temptation and to stand against Satan's attacks. What are some practical ways God might answer these requests in your life?
What did Jesus' followers know for certain about Jesus and about their own relationship with God (verses 6 to 10)?
The word sanctify (vv. 17-19) means to be reserved for God—to be separated from sin and evil and to be set apart completely for God. What would mark a Christian as being sanctified?
Jesus has sent you out (verses 18 to 19). What confidence does this prayer give you as you face your world?
As you face temptation, how does it make you feel to know that Jesus is praying for your success to resist its power?
Prayer
Thank Jesus for praying for you and for the power he provides to live a life of success over temptation.Now